Chris knighted by an African queen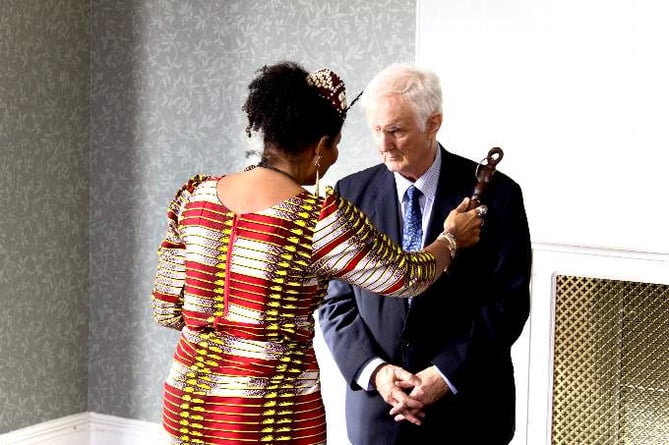 Queen Diambi Kabatusuila knights Chris Marrow
Subscribe newsletter
Subscribe to our email and get updates right in your inbox.
Wellington environmentalist Chris Marrow has been knighted – by the Democratic Republic of Congo's (DRC) Queen Diambi Kabatusuila.
Queen Diambi, of the Bakwa Lunta people of Kasai in the DRC, bestowed the honour in June but from afar.
She came to the UK last month and made a day-visit to Exeter University to meet a group of regional leaders and academics to discuss environmental issues and pollution in the world's oceans.
And she held the first ever investiture in Europe of a Knight of the Order of the Leopard honouring Chris.
"This was the Queen's first visit to the UK since then and the first opportunity for the ceremony to take place," said Chris.
He was made a Knight of the Order of the Leopard of the Bakwa Luntu of Kasai in recognition of his service to Africa and the African people. He said he was 'gobsmacked' when he heard about it: "It is an amazing honour to be awarded this title and took me by complete surprise when it was first announced," Chris said.
The meeting was hosted by Exeter University and co-ordinated by South West Business Council to discuss pollution in the River Congo as well as in the world's oceans.
Chris said: "I have been working with Her Majesty, who is a traditional leader and works tirelessly for her people, for Africa and for minorities.
"The Democratic Republic of Congo has suffered enormously from colonial interference and Queen Diambi wants to represent her country and people with a different kind of voice.
"Her Majesty is the Queen of the Bakwa Luntu, who are part of the Luba People of Kasai, and one of the largest ethnic groups in Africa. She is also Queen to the Bantu people of Brazil, who are descended from slaves transported from Africa."
Chris lived and worked in Africa for many years and, with the South West Business Council, is developing a programme to clear away the 'obscene' amount of plastic from the River Congo and the world's oceans.
"We are also working to stop invasive species from entering rivers from visiting ships and establishing low emission ferries as a means of transport up and down the River Congo," Chris added.
Tim Jones, chairman of the South West Business Council, thanked Queen Diambi for her visit, saying it was 'an absolute delight' to host it: "Without exception or exaggeration, the feedback from the assembled company was overwhelming. Your inspired thinking and motivation was infectious.
"All attending have come back to me requesting that we keep in close touch and develop an ambitious action plan."
And he said: "May I also say how touched I was at the way you presented Chris with his well deserved knighthood."
n Chris Marrow has also written a novel based on his experiences in the Mozambique civil war entitled 'The Hoe and the Gun' which was praised by Queen Diambi.
Comments
To leave a comment you need to create an account. |
All comments 0