Goodbye, Greg, town clerk for a decade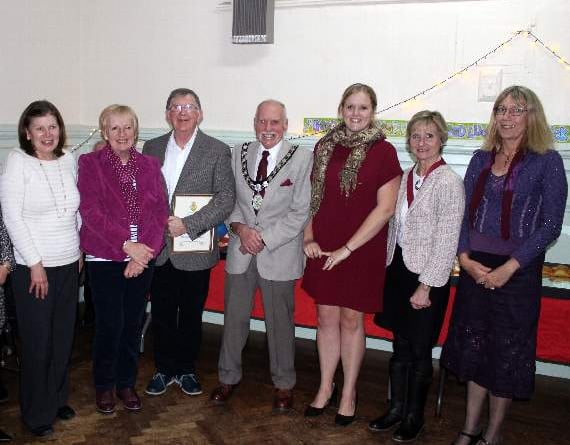 Assistant town clerk Gill Croucher, Carolyn Dyke, retiring town clerk Greg Dyke, Wellington Mayor Cllr Gary James, deputy town clerk Debbie Bere, Mayor's consort Bee James and new town clerk Kathryn Hemensley.
()
Subscribe newsletter
Subscribe to our email and get updates right in your inbox.
TOWN clerk Greg Dyke, who officially retires from his role at Wellington Town Council on Monday, has found himself another job.
Mr Dyke, 68, lives in Kingsteignton in South Devon and has been employed as clerk at Ideford Parish Council working six hours a week. "It's just small job, just to keep the grey matter working and keep me occupied," he said.
Deputy town clerk Debbie Bere, who has worked at the town council for seven years and is currently on maternity leave, has decided not to return to her post, and a joint leaving event was held for them at Wellington Community Centre.
Mr Dyke said representatives from clubs and societies, organisations like the National Trust, Churches Together and Wellington One, along with councillors and colleagues, attended the event.
He said: "The room was full of a collection of people who work very hard to make Wellington a much better place for everyone who lives there."
Mr Dyke, who was town clerk for ten-and-a-half years, was presented with a county cricket club membership for next season and Mrs Bere with a spa treatment for the Cleve Hotel and Spa in Wellington. She and Mr Dyke's wife Carolyn were also presented with flowers.
Wellington Mayor Cllr Gary James said: "Their contributions to the community cannot be understated. Greg as town clerk for ten years has kept us in a sound position to look forward to the future with hope and optimism.
"Debbie as deputy town clerk has done a wonderful job, especially with the Children's Civic Awards and Youth Voice. We will miss them both and wish them well."
Mr Dyke added: "I have mixed feelings about leaving. I have been very lucky, I have enjoyed doing the job, going to work every day and being involved in the middle of the democratic process affecting all the things that happen in Wellington.
"It has been an honour and a privilege to do it, and I'm going to miss the day-to-day involvement. I have lots of things lined up that I am going to be doing – I won't be idle, I shall be keeping busy.
"I won't be losing touch, although I don't live in Wellington any more, I still have friends and family in the town, and I'm connected with the rugby club, so I'll be back on an all too-regular basis."
Mr Dyke is currently on pre-retirement leave and Kathryn Hemensley, who has been at the council since October, has taken over as new town clerk.
Comments
To leave a comment you need to create an account. |
All comments 0