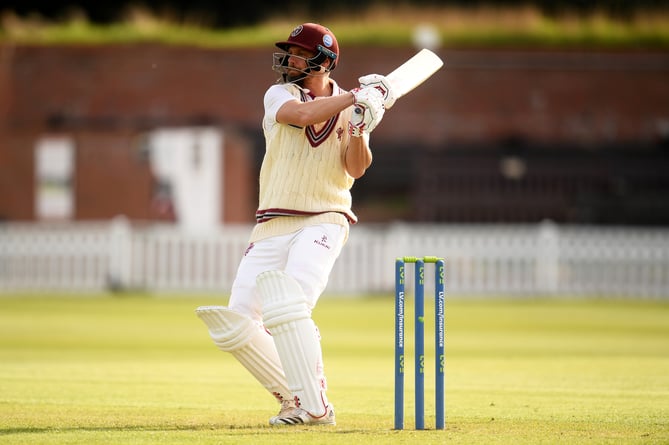 Subscribe newsletter
Subscribe to our email and get updates right in your inbox.
BATSMAN James Hildreth has set out on his 20th season in the first class game, having made his debut for Somerset in 2003, writes Richard Walsh.
He has scored almost 27,000 runs in all formats of the game, which includes 45 first class centuries, the third highest behind Marcus Trescothick and Harold Gimblett.
Ahead of the new season which got under way with an away fixture at Hampshire yesterday, Hildreth, 37, said: "When you start out on your career at 18 you don't think how long you're going to be playing. You just want to get to the highest level you can, so to have played for 20 years and for me to be the last player from the group I started with still playing is quite an achievement.
"I began when T20 started, since when there has been change pretty much every year I have been playing, and, if you throw in Coronavirus into that as well, you have never been able to settle. So to play 20 years in all these formats when cricket has been in a constant state of change is quite an achievement.
"When you start your career you want to play for England - you watch it on TV and that's what you aim to do. I don't think that growing up I would ever have dreamed of having a 20-year county career - that wouldn't have been on my radar - it would have been playing for England, and I will constantly look back with a sense of disappointment that it has only been a county career.
"Some people would love that and think it's brilliant but I will always have a sense of slight disappointment that I didn't play for my country."
Hildreth added: "I do, however, feel a sense of pride that I have been able to stay in the game as long as I have and contributed to winning domestic trophies as much as I have done. I have also set some Somerset records and these are things I will look back on.
"I feel that when I finish with Somerset, although I haven't managed to play international cricket, I feel like I will have left my mark here."
Hildreth's contract with the county expires at the end of this season, so what lies ahead?
He said: "When you get to this stage in your career it's a constant thought of what lies beyond. I'm just going to see how this year goes, really - if I score 1,500 runs then who knows! I have found the last few years quite tough. When the likelihood of playing for England goes it's harder to find the motivation. You want to win the championship for Somerset and, of course, you want to win domestic trophies, but does it burn as bright as when you also had the dream of representing your country?
"I'm not sure I like the way the game is going now. I'm not sure if that is affecting my motivation but cricket is different now from when I started."
Hildreth picked out a couple of high points from his career. He said: "Obviously, winning trophies is a highlight but scoring a triple hundred and seeing how many people have done that - makes you think that's quite an achievement. Not even Marcus Trescothick has done that in the first class game. In the history of Somerset I am one of only seven to have achieved that and one of only two English guys - I look back and think that was a good effort - and I was not out and could have gone on for longer!
"People talk about when I broke my foot and went onto score 100, which at the time didn't mean that much, but now thinking about it makes you realise that was different and those things stick out.
"Playing against the touring sides I have always enjoyed and beating Australia here in 2005 was very special because that was early in my career and, of course, fielding for England as 12th man in the Ashes series was great."
Finally, was this going to be the year Somerset lift that elusive county championship for the first time?
"If we can keep everyone fit and pick our best players every game then we will have a great chance of winning the championship," Hildreth said.
Comments
To leave a comment you need to create an account. |
All comments 0