Charity closure 'major blow' to the community
Tuesday 14th June 2022 6:00 am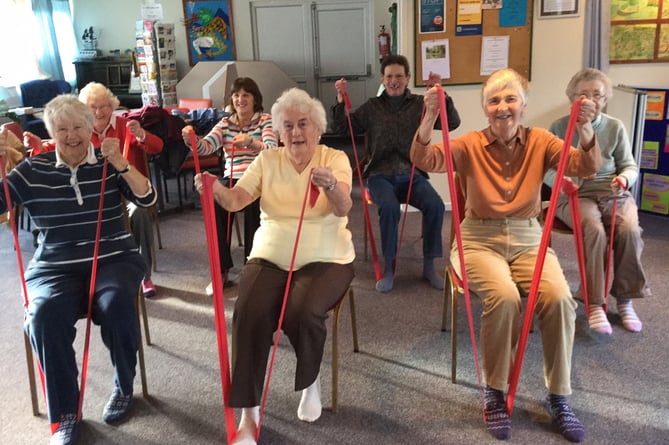 Fitness class at the WHERE Centre
(WHERE )
Subscribe newsletter
Subscribe to our email and get updates right in your inbox.
THE news of the closure of the WHERE centre in Wellington, revealed exclusively by the WWN last month, has prompted an urgent discussion around how the services that were provided at the centre can continue.
The decision to close the centre upset a lot of people and now local groups are looking to see what they can put in place to replace the services that were delivered there.
One of the county councillors for Wellington, Counc Andrew Govier said: "The WHERE centre provided very important services and was a focal point for people living on their own who wanted to socialise.
"I have been contacted by several local residents who have used the centre over the years and are disappointed that it is closed.
"I have been speaking to a number of other organisations who are interested in moving into the building and looking to deliver services from the site. We are hoping to have a meeting in the near future to discuss what is feasible."
The centre in North Street has provided a number of services over the years and prior to the Covid pandemic was a thriving place. For a number of years the centre had been facing financial challenges and unfortunately with the retirement of long-serving WHERE manager, Barbara Ford, the trustees felt that there was no longer the funding available to keep the centre operating.
Cllr Govier added: "'As soon as I heard that WHERE was closing, I knew that this would be a major blow to the local community and I have been talking to other groups to see if we can get something going. The site is owned by the county council and I hope that they will consider allowing a group or groups to take over the buildings and start to look at what services the community needs."
• THE WWN revealed in its edition of May 27 that WHERE, based at the Northfields Centre in North Street, would be closing its doors for good on Tuesday, May 31.
Over the years it has developed and diversified under the guidance of its chief executive Barbara Ford, since 2006.
However, Barbara has retired from her position of CEO after 18 years and the centre closed because there was no-one willing to fill her post.
Comments
To leave a comment you need to create an account. |
All comments 0