THE festive season in Wellington officially started on Monday (November 20) with the arrival of the town's three Christmas trees.
A mammoth logistical operation began at 6 am as low-loader lorries arrived from Langford Lakes Christmas Tree Farm, the family run 40-acre farm near Langford Budville from where they were sourced by town mayor Cllr Marcus Barr.
One tree was being placed in its traditional berth in the town centre outside the Royal Mail sorting office in High Street.
Another was being erected close to the One Stop convenience store, in Tonedale, the second year the town council had provided a tree.
And the third was in the grounds of Rockwell Green's Well Christian Centre, the first time the council had put up a tree for the local community.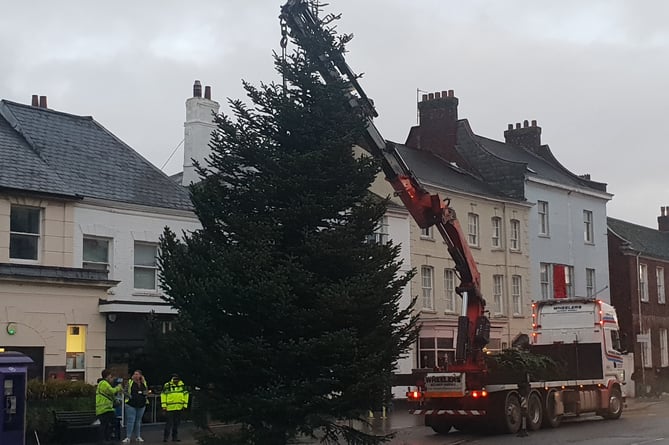 Almost there, Wellington's town centre Christmas tree being put into place.
(Tindle News)
It was expected to take much of the morning for the operation to be completed, causing some disruption for local motorists.
The trees came ahead of Wellington's Christmas lights switch on event which is being held on Saturday evening (November 25).
A Christmas market organised through Wellington Produce Market will also be running in High Street all day on Saturday from 9 am with more than 30 stalls booked to take part.
There will be children's entertainment and Father Christmas in his grotto, and performances by choirs from local primary schools, before the official lights switch on at 6 pm.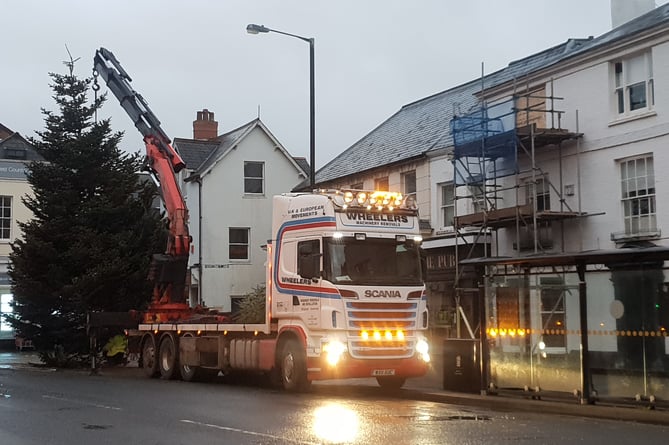 It was an early morning start as the first of Wellington's three Christmas trees was delivered.
(Tindle News)
A new set of Christmas lights has been commissioned this year by the council to give the town a fresh colour scheme.
The lights were chosen after a public consultation exercise following the end of a three-year contract last Christmas.
A set of multi-colour lights will also brighten up Rockwell Green and Tonedale.
Car parking will be free in Wellington's three three town centre public car parks all day on Saturday to encourage people to attend the Christmas market and lights switch-on.