A FIVE-point plan launched by Liberal Democrats to expand local NHS services has been slammed as 'behind the times' by Wellington's Conservative MP Rebecca Pow.
Former Lib Dem leader Sir Vince Cable launched the plan last week with the party's Parliamentary hopeful Gideon Amos, calling for medical hubs, the return of NHS dentists, and a new maternity unit for Musgrove Park Hospital, Taunton.
But Ms Pow said the Government was already committed to delivering an extra £45.6 billion in health and social care funding in the next three years to invest in more facilities and resources and help cut waiting lists.
Ms Pow said it meant more money for upgrades to Musgrove Park Hospital, which had already seen completion of a £4.4 million new eye care unit and a start on an £87 million surgical centre as part of the 'Musgrove 2030' plan she had been supporting to transform the hospital's facilities.
She said: "A new paediatric centre and maternity unit, where I had all three of my own children, is already front and centre of the next phase of the programme, with good progress being made on planning.
"It is a pity that the local Lib Dems do not keep up with and welcome the progress that has been made.
"The Lib Dems are more than happy to say one thing locally and another thing nationally.
"They have shown time and time again they cannot be trusted to deliver for the people of Somerset.
"You only need look at the financial mess they have made running Somerset Council into the ground.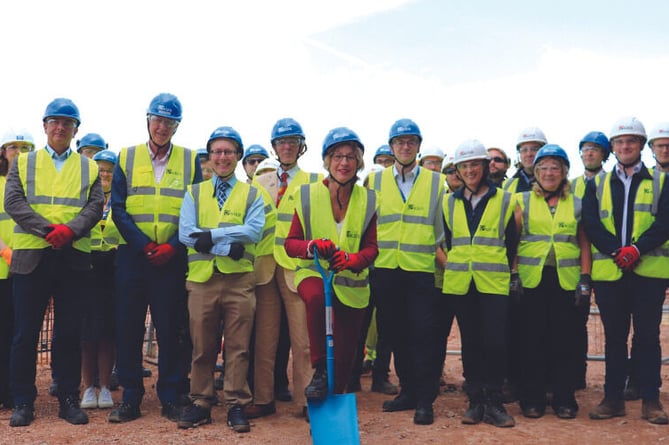 MP Rebecca Pow breaks the ground at the start of work on a new Musgrove Park Hospital surgical centre.
( )
"Musgrove Park Hospital has always offered excellent care but now we can look forward to it being delivered in world-class facilities in the years ahead."
Ms Pow said the Government was also committed to delivering nine million additional tests by 2025 and had increased support for Community Diagnostic Centres (CDCs) such as Somerset's, which had delivered more than 86,000 tests since going live in 2021.
The Government was also providing an extra £7.5 billion in adult social care over three years, helping to provide dignity for those in old age.
As part of that initiative it was investing £500 million in new measures for the social care workforce, supporting their development and wellbeing.
Ms Pow said: "We have created the Adult Social Care Discharge Fund, which gives Somerset Council an additional £2,081,306, to help discharge patients from hospitals into the appropriate social care setting, and announced a further £250 million to help speed up wider discharges by cutting waste and needless delays.
"Finally, by the end of this Parliament we will have delivered on our manifesto promise to end unpredictable and catastrophic social care costs faced by thousands of people.
"Our proposals cover all care costs under the value of £20,000, quadrupling the means-tested support limit, and ending uncertainty by introducing a lifetime care costs cap of £86,000.
"I am proud to be part of this Conservative Government that has delivered for the people of Somerset by providing record funding for our NHS as we increase services and cut waiting lists and are ensuring people can get the best care possible without having to travel far from their homes.
"I continue to highlight the lack of NHS dental provision across my constituency in no uncertain terms to health Ministers and met the Chancellor himself ahead of the Autumn Statement to call for more support.
"I have been assured that Government will shortly publish a plan for improving access for new patients, and ensure that NHS dentists are better incentivised to deliver NHS care."