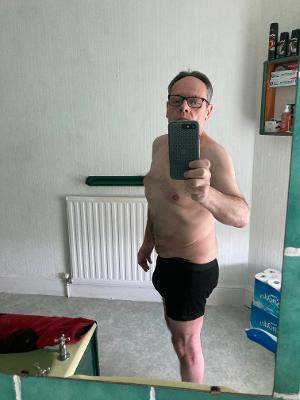 Steve Pengilly
(Steve Pengilly )
Subscribe newsletter
Subscribe to our email and get updates right in your inbox.
A WELLINGTON man who has lost seven and a half stone through illness says he is in despair at a lack of help from the NHS to deal with his "agonising" stomach problems.
Steve Pengilly, who turns 60 today (Friday) claimed the NHS has largely washed its  hands of him.
"God only knows how I haven't taken my own life," he told the Wellington Weekly News.
The former warehouseman is suffering from a hiatus hernia with motility issues, and has lost seven-and-a-half stone in the last two years.
"I have zero quality of life and will end up killing myself just to stop the pain," he said.
"They've put me down for gallbladder removal surgery, but they do not think it will fix my symptoms.
"I am in constant pain and being left like this with no help, over two years… I cannot comprehend the inhumane treatment I'm getting. My throat is filled with mucus/reflux constantly, its horrific, my forearms and the base of my thumbs feel like they're full of poison.
"It's indescribable. I cannot comprehend how a decent genuine human being can be treated like this and just left."
Steve said he faced endoscopies that went wrong, and claimed he was turfed out of A&E at Musgrove at 3.40am in a t-shirt and slippers.
He says he has to take large amounts of morphine just to allow him to speak.
"I understand how Covid has disrupted things, but no one is doing anything, and I'm begging for help."
Steve, of Mitchell Street, said he has contacted his MP, Rebecca Pow, "dozens and dozens" of times "she has done nothing whatsoever to help me."
Before his hernia, Steve was fit and healthy, enjoying skittles and handball. Now, he is reduced to eating porridge and low-fat soup and rarely going out.
The NHS's Patient Advice & Liaison Service said they were unable to comment, and referred the WWN to Musgrove Hospital's chief executive Peter Lewis. He has yet to reply.
Rebecca Pow MP has been asked to comment.
•If you have been distressed by this report, you can ring the Samaritans on 08457 909090.
Comments
To leave a comment you need to create an account. |
All comments 0