LOCAL MP Rebecca Pow welcomed the election of Wellington businessman David Sheppy as the new chairman of the National Association of Cider Makers when she attended an All-Party Parliamentary Cider reception in Westminster.
Ms Pow, who is a Parliamentary Cider Champion, attended a special reception to celebrate British cider makers and to welcome the election of Mr Sheppy, who is managing director of Sheppy's Cider.
During the event, Mr Sheppy called on MPs to back the cider industry, which supports more than 11,000 jobs, 16,000 acres of orchards, and is worth £2.95 billion, with the Westcountry making a major contribution to it.
Cider makers in the Westcountry and Hereford together attract more than a million tourists each year, contributing important revenue to rural economies and communities.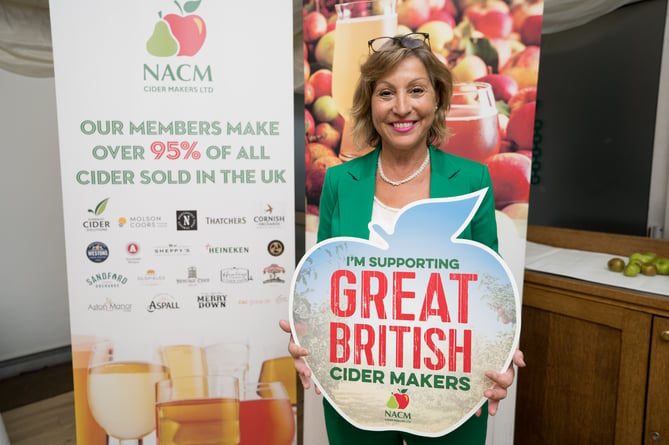 Cider champion MP Rebecca Pow at a cider makers reception in Parliament.
(Elyse Marks)
Mr Sheppy, the sixth-generation of a cider making family spanning more than 200 years, acknowledged how far the industry had come in that time, making great leaps in technology while also keeping with the traditions important to the heritage of the industry.
He said that with the right support the cider industry could be optimistic for the future and for the great ciders that would be made by generations to come.
Ms Pow said: "The UK has a history of cider making dating back thousands of years, a tradition that has produced a variety of cider making traditions throughout the country.
"We have many superb craft drinks businesses here in Taunton Deane and across Somerset more widely, and as a Parliamentary cider champion I am determined to ensure that our cider industry is heard at the highest levels of Government.
"I will be engaging with Ministers ahead of November's Autumn Statement to ensure our valued local cider makers have a bright future ahead.
"I am also delighted that David Sheppy has taken on the role as chair of the national association, he will be a strong voice for the industry.
"He comes from a highly respected family of cider makers, and I am delighted to see that his daughter has also now joined the family team."