Wellington fireworks display saved thanks to £2,000 grant
Wednesday 3rd August 2022 6:00 am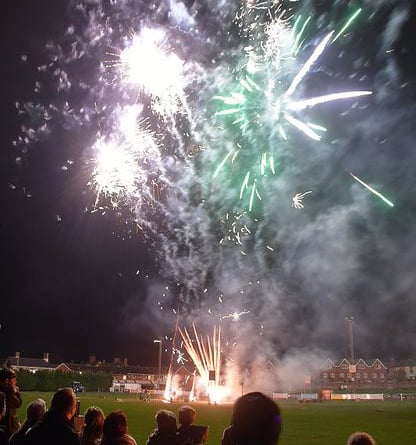 Subscribe newsletter
Subscribe to our email and get updates right in your inbox.
THE annual rugby club November 5 fireworks display in Wellington has been saved thanks to £2,000 support from town councillors.
The winter spectacle had been put on annually for 42 years until the coronavirus pandemic saw the country locked down in 2020.
But it was faced with being scrapped this year because costs were doubling to £4,000 due to changes to regulations, including around how fireworks were lit.
It was no longer practical to use volunteers to put on the show, especially as the club's long-standing expert and founding organiser of the event Neil Bache had retired.
Instead, the rugby club now had to hire a professional company which would double the previous cost of the event and more than wipe out any profit.
Club secretary Ashley Colman said either admission prices had to be raised steeply or, more likely, the event would be cancelled.
Mr Colman said the club was 'firmly in the heart of the community' with 'a long track record of offering and sharing our facilities'.
He asked the council to make a £2,000 grant to meet the additional costs of this year's event.
Mr Colman said: "We have had a policy of keeping (fireworks display) admission affordable to all and have not raised prices for a decade.
"Safety is our main priority, and we feel that it is beneficial to have an organised professional display.
"We have discussed the possibility of not holding a display but were unanimous in our desire to reinstate the display in 2022.
"We have always financed from club coffers but the increase in costs mean there would be a real possibility of a loss.
"The club and the town council have a long history of collaboration and shared ideals.
"As the oldest sports club in the town, we wish to continue to be part of the wonderful Wellington community for many years to come."
The town council's finance committee agreed to pick up the tab for extra £2,000 costs, meaning the fireworks display could be restarted after a two-year absence.
Cllr Andrew Govier said some people might feel a 20-minute show did not provide value for money but he recognised fireworks were expensive.
He said professionally organised fireworks events should be encouraged because of the inherent dangers of amateur displays.
Cllr Mike McGuffie had reservations about making a grant for the fireworks display because not everybody in Wellington could afford to attend due to having to pay an entry fee.
Cllr Marcus Barr, who is also a district and county councillor, said he was concerned that the rugby club would need to ask for council support again next year and every year.
Cllr John Thorne suggested the council could do more to work with the rugby club to make more of the fireworks evening.
He said people often had to stand around for about an hour before the display began, which could be quite testing for families with young children.
Cllr Thorne said it should be possible with council support to add some activities to keep youngsters occupied until the fireworks started.
Another issue he thought could be addressed was the traffic chaos in surrounding roads when so many people were trying to park or to leave at the same time.
Cllr Thorne said the problem might be eased by hiring marshals to direct traffic.
However, his ideas did not find any backing among other members of the finance committee.
Comments
To leave a comment you need to create an account. |
All comments 0