DORSET and Somerset Air Ambulance (DSAA) has shared five festive fund-raising ideas for people across the Wellington and West Somerset areas who want to help the charity to 'be there' for patients today, tomorrow, and in the future.
The life-saving charity is 95 per cent funded by charitable giving and does not receive any direct funds from the Government or National Lottery.
DSAA provides support for critically ill and injured people with the enhanced skills of its team, and the specialist equipment and drugs the helicopter carries, combined with speed of response, which can make the difference between life and death.
Its highly-skilled pilots, critical care practitioners, and doctors operate for 19 hours a day from 7 am to 2 am, 365 days a year.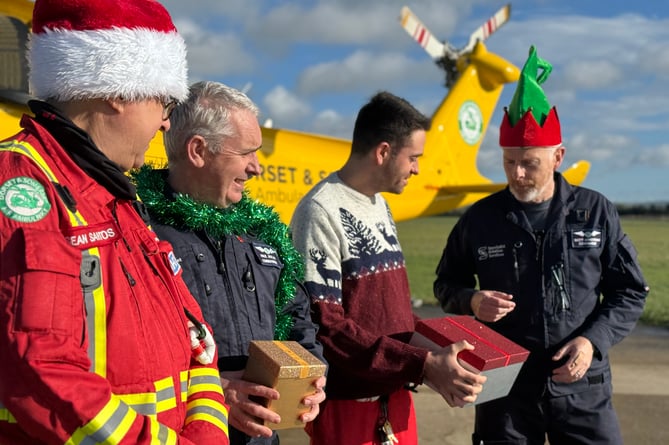 Dorset and Somerset Air Ambulance is sharing festive fundraising ideas.
(DSAA)
Each mission costs it about £3,500 and with operational costs rising, it needs public support more than ever.
Last year, the air ambulance flew 2,424 missions. Readers can 'do the maths'.
DSAA's five fund-raising suggestions are:
Dedicating your Christmas lights to DSAA - If you are one of those people whose turns their house or workplace into a dazzling winter wonderland with Christmas lights, why not make it even more special this year by dedicating your display to the work of DSAA. It is a brilliant way to join hands with your community and make a real difference during the festive period.

Hosting a 'Mince Pie Morning' - This is all about bringing people together over a cup of tea or coffee and, of course, mouthwatering mince pies ... and do not forget the cream! Gather your friends, family, and colleagues for a little get-together or invite your whole street and make it a bigger event.

Organising a festive fancy dress day - Embrace the Christmas spirit by dressing up in your jolliest, most dazzling outfits in your workplace, at school, or a community gathering.

Holding a Christmas fair - Turn your holiday celebrations into a meaningful event by holding a Christmas fair. It is a fantastic way to combine festivities and make a difference during the festive season.

Organising a festive bake sale - Bake an array of festive treats such as cookies, cakes, and pies and sell them to raise funds for DSAA.
DSAA fund-raising manager Emma Jones said: "Fund-raising during the festive season can be so much fun.
"Whether you are an individual, a school, a business, or a group, there are so many ways to get involved.
"We have highlighted just five of our favourites, however, no matter which idea you choose, remember, the festive holidays are a time of togetherness and giving.
"You could use this as an opportunity to bring your community together while raising funds for our very special charity which saves lives every day.
"Every penny raised will make a huge difference - £25 could help towards the cost of a vital pint of blood, £50 could help provide a blanket to provide warmth and comfort, and £100 could contribute to an airway kit for managing unconscious patients with traumatic brain injuries.
"A huge thank you from us all."
Anybody who feels inspired to become involved with festive fund-raising to support DSAA can contact the charity's fund-raising team by calling 01823 669604 or emailing [email protected].