THE centre of Taunton was brought to a standstill on Monday (November 20) when former BBC Top Gear presenter Richard Hammond visited to open a motoring museum.
Several hundred people turned up for the occasion and police had to close the town's North Street to traffic for their safety.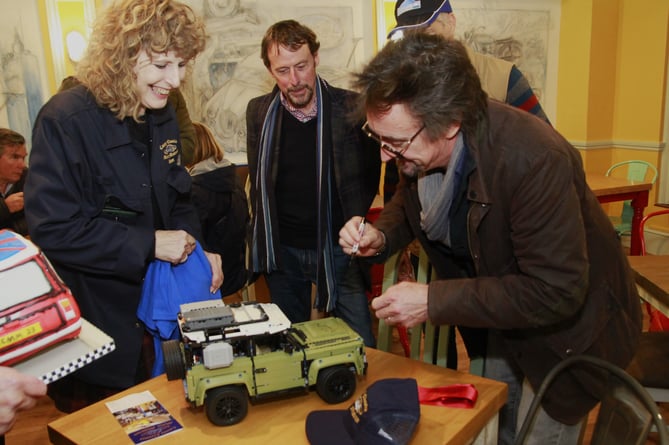 Richard Hammond signs a model Land Rover after opening the County Classics Motor Museum, in Taunton.
Hammond was treated like Royalty as he cut a ribbon to declare open the County Classics Motor Museum for owner Patrick Hawkins.
The opening was also attended by MP Rebecca Pow, Somerset Council chairman Cllr Mike Best, and Taunton Mayor Cllr Nick O'Donnell.
For Mr Hawkins it was a dream come true moment, after putting his life savings into creating a car museum in the former the County Stores shop premises.
Mr Hawkins, a lifelong motoring enthusiast who bought and sold his first car at the age of 11 years, had built a successful car sales business with 36 premises by the time he was 36 years old.
He announced his museum plans in 2020 but then had to survive the Covid lockdowns, the cost-of-living crisis, and his own personal health issues.
The museum houses about 100 cars, 80 motorcycles, and an aeroplane spanning the decades from the 1960s through to the 1990s.
Many of the vehicles are from Mr Hawkins's own collection, while others have been loaned to the museum.
Mr Hawkins said: "It has been a tough journey, it really, really has.
"But it has been absolutely incredible.
"To have Richard Hammond here, how fantastic is that?"
Opening the museum, Richard Hammond said: "There will be something in here for everybody that will catch their breath and realise that is the car that connects with me."
The museum opens it doors to the paying public for the first time on Tuesday (November 21).