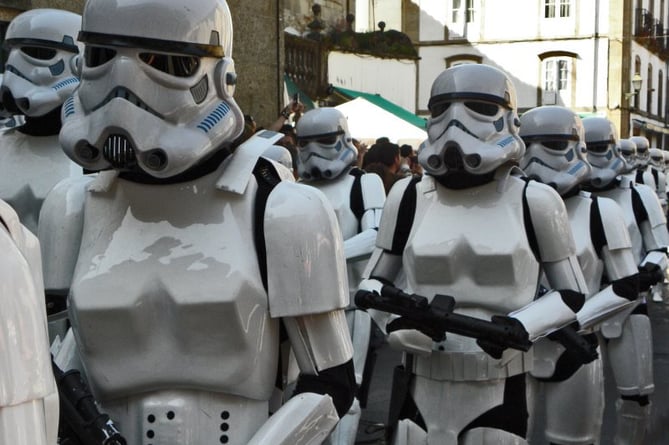 Imperial Stormtrooper members of the 501st Legion marching at a community event. Photo courtesy of Wikimedia Commons https://commons.wikimedia.org
(Wikimedia Commons https://commons.wikimedia.org )
Subscribe newsletter
Subscribe to our email and get updates right in your inbox.
STORMTROOPERS will be invading Wellington Park this autumn as members of fan group the 501st Legion take part in the town's inaugural film festival. The volunteer 501st Legion was created 25 years ago to bring together costume enthusiasts and promote interest in the Star Wars film franchise.
The Stormtroopers' visit has been arranged by former town councillor Sean Pringle Kosikowsky, who is a member of the festival working group. They will be in the park on Sunday, October 2, when Wellington Silver Band will be playing film theme music including the John Williams-composed classic Star Wars. Mr Pringle Kosikowsky, a science fiction enthusiast, told the Wellington Weekly: "Sci-fi is a part of my earlier life's interests which I still hold dear today." Sci-fi Sunday will encompass some of the elements that made the genre great for me." From watching a lovable alien with my family to hearing and seeing iconic pieces of music and costume which stay with you forever."
The festival will have a special 40th anniversary screening of Steven Spielberg classic E.T. The Extra-Terrestrial at the Wellesley Cinema, for which permission had to be obtained from Universal Studios. The screening will be followed by the town band concert in the park with the Stormtroopers on parade. Mr Pringle Kosikowsky said the film festival was working with the Friends of Wellington Park to put on the free event, which was open to any age to attend. A group from the 501st UK Garrison of Star Wars costuming enthusiasts would march to the park for the band's performance and mingle with the audience for the afternoon.
Mr Pringle Kosikowsky said: "I am hoping that like-minded people take the initiative and decide to dress up also for this fantastic event in our park, a chance to connect with our whole community over the shared love of music in cinema. It is absolutely fantastic and such a thrill that we are able to have the 501st be part of the Wellington Film Festival as they share very similar priorities and ethics with our whole team behind the festival.
"First, they are incredibly good at what they do and try to perfect their costume and performances to be exactly a reflection of what you see on the big screen. Second, running a non-profit organisation that benefits many. "Our goal is to bring a totally accessible, free, or affordable, event to Wellington.
"Likewise, the 501st UK Garrison performs up and down the country giving all fees to charity, something with which we were very glad to be on board with.
"They put on a costume for the love of it and by sharing that passion, much like our own passion for cinema, we can pass the rewards and benefits from that on to the wider public."
Mr Pringle Kosikowsky said other 'notable happenings' during the three-day festival would include a showing of Quentin Tarantino's Pulp Fiction at the Wellesley Cinema, where filmgoers were encouraged to wear black suits and ties. I hope people from far and wide will come into the town to experience whatever elements of the film festival they connect with," said Mr Pringle Kosikowsky. They could try a film-themed pub quiz in the Iron Duke, watch heritage and archive films from the local area, take part in children's activities in Wellington's library and Pop Up Shop, attend a special family screening of 'Dolittle' on the outdoor cricket pitch at Wellington School, learn about the natural world through film, or hear from a director why they made certain choices in production.
Mr Pringle Kosikowsky said: "Assisting the fantastic team who are bringing all of this to reality has been a real honour. "I grew up loving cinema. In hindsight, I even loved the anticipation that came with the years of waiting for a movie to make it from the cinema to a video cassette. Perhaps, the festival might just give a spark of inspiration for one of our own Wellingtonians to become the next big Spielberg or Hitchcock."
Mr Pringle Kosikowsky said the festival would give Wellington a massive boost in terms of commerce and across a wider area it would increase people's familiarity with the town and encourage them to visit again. The film festival, which has been delayed since 2020 by Covid-19, is slated to run from September 30 to October 2 with activities taking place at Wellington Arts Centre, St John's Church, the Wellesley Cinema, Odette's Tearooms, Wellington School, and other locations.The festival website for more information is www.wellingtonfilmfestival.org.uk.
Comments
To leave a comment you need to create an account. |
All comments 0